Latest News (Last updated 13/01/2022)
The Centre Rallies  PDF for 2022 has now been published and can be found on the CAMC events page or by clicking on the image below: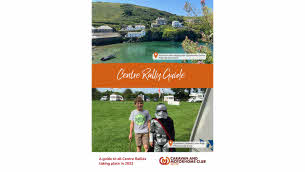 Latest News (Last updated 10/01/2022)
We know how popular our list of weekend and holiday rallies 2021 became so we are very pleased to tell you that Paul our Vice-Chairman has been working hard to put together a list for 2022.
Pop over to the Centre Information Page on our website and have a look at what is going on in our Region over the next 12 months.  Happy planning everyone.
Latest News (Last updated 11/10/2021)
The Region says 'Goodbye'
 The Region's recent AGM was rather a bitter sweet event as the we had to say 'Goodbye' to three members of the Council.
Glynn Ball would be stepping down as Nominated Member later in the year which meant that this would be his last meeting with the South West Region. Glynn has been a long standing member of the Region and who's memory had been invaluable over the years, he and Jennifer will be missed.
Gary Walton has decided that it was time to 'hang up his calculator' and was leaving us after 4 years of keeping our finances in very good shape.  Gary was presented with a pair of engraved cuff links as a memento of his time on the Region and Helen was given a beautiful orchid.
Finally, Janet Moore, who after 14 years on the Executive and then as Vice Chairman of the Club, would be retiring on 23 October following the Club AGM and this would be her last South West Regional Meeting.  Janet has given so much to the Region in support and advice and her knowledge has been invaluable.
The Region presented Janet with a voucher to spend on her beloved garden, a book on the 101 Gins she really should taste and one or two miniatures to start her on her journey through the book.   Darrill wasn't left out and was presented with a rather nice bottle of 'Red' for him to enjoy.
We wish Janet and Darrill a long and happy retirement and hope to see them both again very soon.
 Charity Donation made by the Region
 The Region was very pleased to be able to present Devon Freewheelers, part of the National Blood Bikes, with a cheque for £224.40 which was the amount raised by the Region for this very worthwhile charity.
 Mick Scaife came along to our AGM and gave a presentation and explanation of the wonderful service which these volunteers give and he can be seen here receiving the cheque from our Chairman, Sheelagh Butler.
 Thank you to all who contributed towards this amount